Yesterday we had the kick-off meeting for the course in
Applied Equine Podiatry
, June 15 to 19 in Boden. This really is a course I recommend all horse owners (and horses interested for that matter!) . The course is not primarily about learning to trim yourself, even if it is a part of the curriculum, but to learn to recognize a healthy hoof. We collected a few hooves yesterday and I'm really looking forward to see and hear the story hiding in those feet, because they all had something to say!
I had a question on the Swedish blog on
horse conformation and weight bearing ability
and riding trotters, it'll be the topic for today.
Horses can be described in many ways, the starting point may be the color, breed, conformation, performance or behavior. The exterior that we see when we look at a horse is a mixture of bone structure and musculature. A skinny horse can look dreadful, but have a better skeletal conformation than a seemingly well-muscled and athletic horse.
From a sustainability standpoint, horse conformation is important but actually not always conclusive. Beyond question that a horse with well aligned bones, good relationship between the different parts of the body, a well-set neck and a muscle suit that is proportional is well equipped to take the strain of an active life. But there is no guarantee. Hambletonian, a fantastic breeder in harness racing, had plenty of exterior deviations but it did not prevent him from being both strong and fast.
The horse's skeleton consists of 205-210 bones, depending on how they are classified.
The horse's engine sits in the back, the angles that is talked about is how the pelvic angle affects the angle of the femur and it in turn affects the horse's ability to carry weight and pushing the horse forward. Power is transmitted via the lumbar spine - the part of the spine that allowes for some movement between the vertebrae. The legs are responsible to take the horse forward and the way the bones of the legs are stacked affects both movement patterns, hoof form and shock absorbing. Here's a spread that shows different leg conformation from the book The horse exterior by Lars-Erik Magnusson.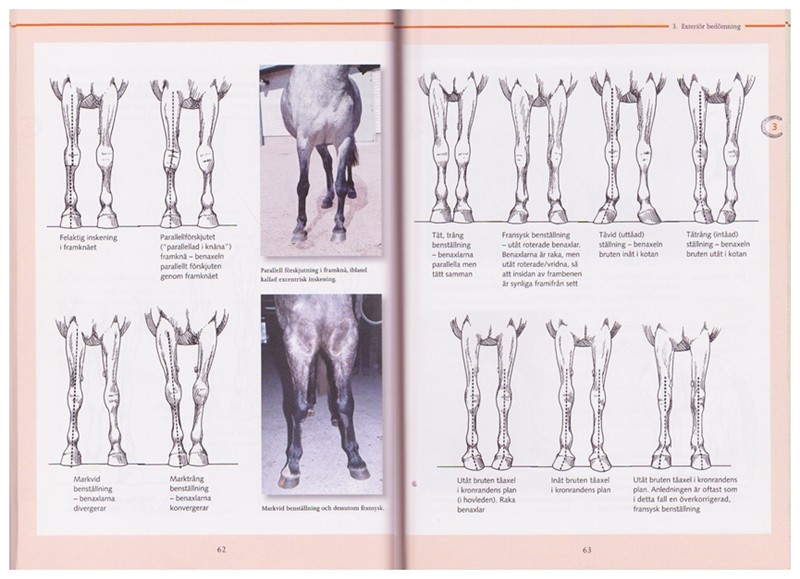 No horse is actually designed to carry any other weight than their own, be it trotters or riding horse. Since we choose to mount up and ride them, it is important to be observant of how the horse reacts to our training and to vary both training and ground we train on.
I would like to quote a farrier in Luleå, Bengt-Erik Källsenius. "You do not buy a retired trotter, you buy a bred trotter." Trotters can be very fine horses, provided that those who train them remember that they are bred to trot fast, and it has brought exterior customizations and a movement pattern that corresponds to the requirement.
Trotters are usually lower in height (about 155 cm), has a strong back to be able to handle the power coming from the hindquarter. A trotter usually begins its training in early years and made it in a reasonable manner based on the young horse it will build the body, both in terms of bone mass and muscular strenght. A trotter trained for racing, even if it does not measure up to race quality, can become a nice riding horse, with the advantage that it can also be harnessed and driven for a change.
I recommend Lars-Erik Magnusson's book The horse's conformation and a book in English The Horse Conformation Handbook by Heather Smith Thomas. And it's never wrong to take a crayon and mark the various joints, bones, etc on a real horse, and then measure the angles, lengths and widths. All that trains the eye and makes it easier to see the horse as it is.